Image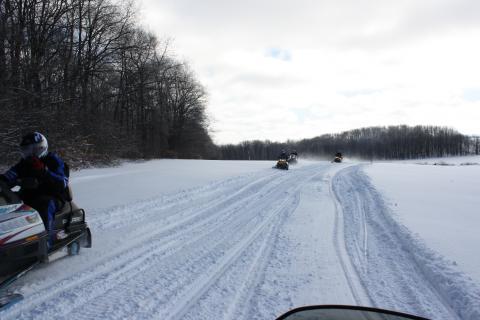 Snow Bounders Snowmobile Club is in the Enchanted Mountains of Western New York.
Check out our Trail Conditions
Please be advised if you ride a trail that has been closed by our club, you are now subject to a fine for trespassing if a landowner chooses to press charges.
Any trail closings may be posted on this website, on the NYSSA website, or on our Facebook page.
About Snow Bounders
Snow Bounders, Inc. snowmobile club was incorporated December 8, 1969. Over the past 40 years, our club membership has grown to 100+ members. We presently have approximately 80 miles of groomed trails for snowmobilers to enjoy!
What do the Snow Bounders do?
Erect signs to direct and educate those persons using the trail
Clear the trails of all debris and maintain trails
Provide a one million dollar insurance policy to protect our landowners
Provide safety courses for younger snowmobilers
Sled events
Promote safe and responsible sledding
Volunteers Needed
The Snow Bounders are always looking for new volunteers. It's never too late to help even if the season has begun.
Each year, the same volunteers, with exception to a few new ones, maintain the trails. These volunteers are spread very thin and we lose a few along the way, but very rarely gain any to replace those that we have lost.
We would like to take this time to say "thank you" to all the new volunteers that have decided to join our club and give countless hours to make our trail system what it is.
Monthly Meetings
Meetings for the 2020-2021 Season are the 2nd Monday of the month at 7:30 PM at the Little Valley Legion, Little Valley, NY 14755.
New Law Passed for Unregistered Snowmobiles
A law has been passed for fines for unregistered snowmobiles -- $200 minimum, $500 maximum (previous law was $200 maximum.) Please register your sled.
Where We Snowmobile
We take great pride in our trail work. Volunteers maintain the trails year round. Get more information on the trail system by clicking on the links below.